Certificate in Meditation Teaching and Holistic Human Development
14 Day Intensive India Residential Retreat Training Course Overview
Wednesday 16th October to Wednesday 30th October 2019.
India is the motherland of Meditation. Through attending this unique training course, you will step out of your everyday life into the spiritual heartland and come home re-invented, refreshed, revived, with some fantastic new skills and insights to help you begin your holistic practice and start an exciting new career.
You will have the opportunity to complete your Certificate level training course and also participate in a variety of workshops aimed at helping you develop the confidence and experience you need to build your career and grow your business.
You will be able to practice a wide variety of different Meditation styles (both contemporary and traditional), and you can join in the Chair Yoga class each morning.
You will be cocooned in a beautiful, safe, traditional environment in comfortable, private accommodation, with people who know the area and are focused on making sure you enjoy your time in India.
You will have abundant, delicious, healthy meals prepared for you in a beautiful and hygienic setting.
We will visit a wide variety of interesting destinations, including the Mandore Gardens with its ancient temple ruins; the Mehrangarh Fort; Jaswant Thada, Toorji's Step Well, Umaid Bhawan Palace and Museum the Jain Mahavira temple and some other local places of interest.
The culture in Jodhpur is colourful, vibrant and creative. It is steeped in history and of special interest due to its position on the edge of the desert.
You will have plenty of time to relax, shop and explore the local area.
You will meet like-minded people who are on a path similar to your own (and may even make lifetime friendships).
You will return home, having experienced the spiritual essence of India blended with the modern research, holistic techniques and practical hands-on training that will launch you into your new career and take your lifestyle into a new exciting phase; refreshed, relaxed, inspired!
Course Outcomes
On completion of the certificate level intensive training course, you will be qualified to work as a professional Meditation Teacher, Chair Yoga instructor and Holistic Counsellor or Holistic Life Coach.
Graduates from Australia, New Zealand, Canada and the United Kingdom can use the titles Meditation Teacher, Meditation Therapist and also Holistic Counsellor.
Graduates in the USA can use the titles Meditation Teacher, Meditation Therapist and Holistic Therapist and advertise that they offer Holistic Counselling Services (due to inconsistent laws in various states of America prohibiting the use of the title 'Counsellor').
If you live in a different country, please get in touch with us to discover the laws about using titles in your country.
You will be able to work for yourself teaching Meditation, chair yoga and positive life skills in the community to groups and individuals and in the corporate sector as a stress management consultant.
You will also be able to provide holistic counselling and holistic life coaching services. You may also seek employment, if you wish, in holistic healthcare centres, wellbeing clinics, health clubs, natural therapies centres and retreats, gymnasiums, respite centres and community centres as well as several other areas that wish to employ qualified holistic therapists with a focus on Meditation therapy and positive self-development.
On completion, you will have all the skills, qualifications and confidence to develop a solid general holistic wellbeing practice, and you will have access to ongoing practitioner support to assist you in successfully developing your practice.
You will be able to join the IMTTA, the CMA, the IICT and get professional insurance.
The Certificate in Meditation Teaching and Holistic Human Development.
Module One - Foundation Studies in Meditation
History and Theory of Meditation
Developing Meditation routines
Deepening and refining your practice
Module Two – Stress; Understanding Cause & Effect
Understanding stress
Physiological responses to stress
Psychological causes of stress
Module Three - Foundations of Human Happiness
The psychology of happiness
Subconscious programming and reprogramming
States of mind & Fundamentals of self-image
Module Four - Tools for Healing
Tools for healing
Positive thinking skills
Foundations of Mind-Body Medicine
Meditation as a healing tool & Hypnotic states
Module Five - Meditation Styles and Techniques
Poses and positions
Breathwork
Chakras and energy Meditations
Guided Meditations & visualization
Mantras and affirmations in Meditation
Module Six - Teaching
Talking to groups & Group leadership skills
Answering questions about Meditation Leading guided Meditations
Overcoming obstacles to Meditation practice
Creating safe and effective teaching environments
Module Seven - Working with Specific Groups
Teenagers
People with disabilities
Health care professionals & business clients
Difficult clients
Module Eight - Counselling & Coaching Skills
Client-centred approach
Active listening skills
Identifying obstacles
Case studies
Module Nine - Running Classes and Workshops
Basic Meditation
The IMTTA Course (Meditation, Stress Management & Personal Development Combination)
The IMTTA Teen Program (Meditation for Teenagers)
Choosing Venues
Module Ten - Corporate and Community Settings
Corporate stress management and relaxation workshops
Approaching community groups and organizations
Volunteer and community work
Module Eleven – Small Business Management
Ethics and Professionalism
Your public profile
Fundamentals of customer service
Maintaining student/client records
Charging for your services
Running a small home office
Module Twelve – Marketing; The key to success
Understanding the power of branding, targeted marketing and advertising
The Internet - How to use free advertising for your business
Public image
Accommodation in India

You will be staying in your own private, air-conditioned room with private bathroom, in a beautiful 500-year-old Haveli in the heart of the magical, colourful city of Jodhpur. Or you can choose to share a room with another practitioner of the same sex. Or, bring a friend or partner and share a room with them.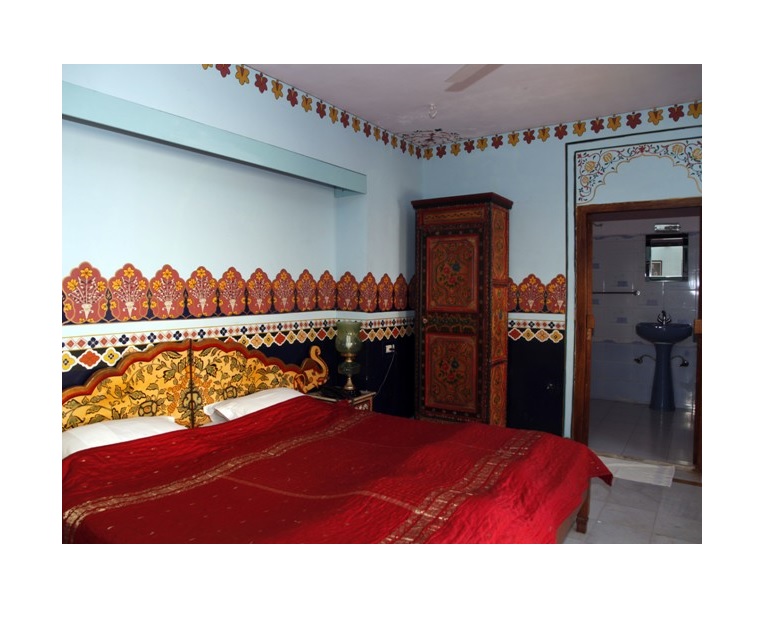 The Haveli is the ancestral home of a delightful family, who will make you feel like a dear friend and provide you with a very traditional experience over two enchanting weeks.
You will feel more like a visiting friend or family member than a guest and their kind and helpful team will make sure you feel completely at home.
The Haveli has been lovingly restored and is a delightful oasis, offering an authentic and unique experience of the Marwar region. It has the grandeur of olden days Rajhatstan mixed with modern amenities and comfort.
There is a little courtyard garden, swimming pool, WiFi and a delightful rooftop restaurant that looks out across the rooftops to the magnificent Mehrangarh Fort.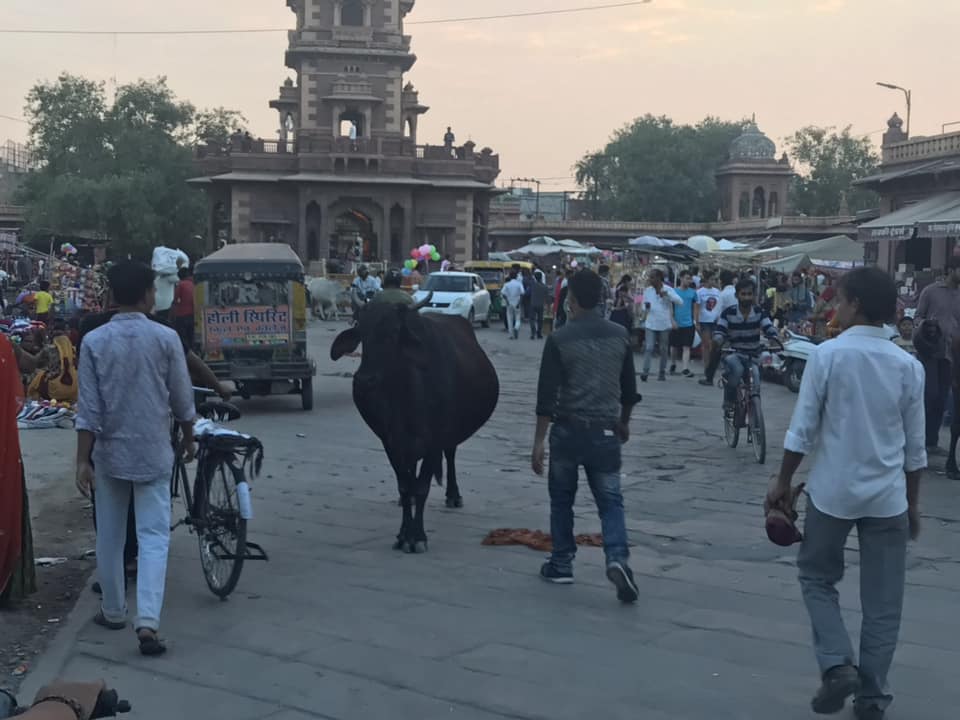 The market is only five minutes walk through the lively streets.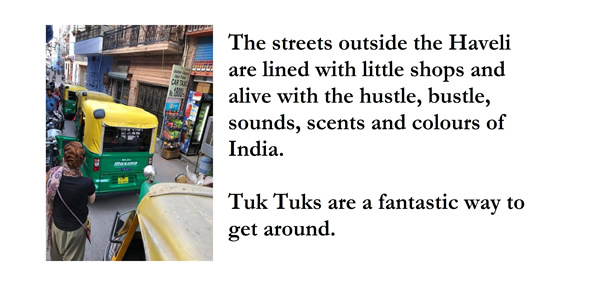 The streets outside the Haveli are lined with little shops and alive with the hustle, bustle, sounds scents and colours of India.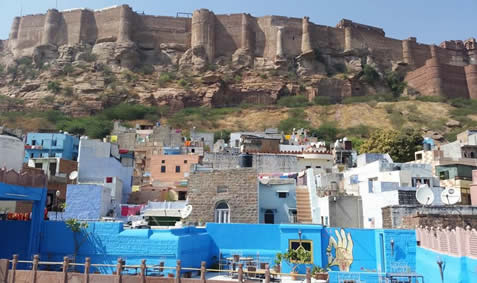 (Above) The view of the fort from the Haveli dining room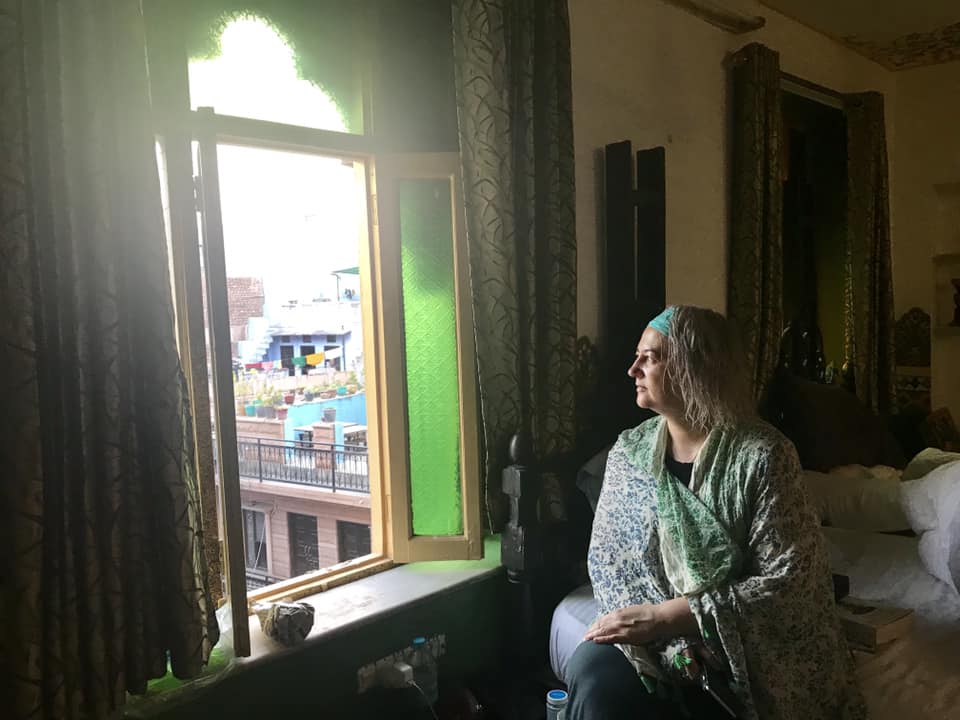 The Haveli is a tranquil, peaceful and very comfortable retreat.  

Meals
Breakfast offers the typical western choices of fruit, cereals and toast, enhanced with some more traditional Indian breakfast options.
Lunch is fairly standard each day with a delicious (and not too spicy) banquet including samosa, Indian potato dishes, rice dishes, spring rolls and fresh fruit. The fruit will be washed and cut up on the table so we can all be sure it is hygienic and healthy to eat.
You will be able to choose from the multi-cuisine menu at the Haveli's restaurant for dinner each night and special diets can be catered for.
In the interest of staying healthy in India, all of our meals will be at the Haveli (which we know and trust) and will be vegan. Having eaten in many places in India, we are pretty sure the Haveli has the very best food anywhere!
The choices are many and the food here is truly delicious. You can rest assured the Haveli kitchen is clean and healthy.
You will also be provided with unlimited fresh bottled drinking water everyday.
On our last evening at the Haveli together, we will have a special banquet and Bollywood party.
Getting to the Training Retreat
All you need to do is book your flights from your nearest international airport to Jodhpur and get on the plane. We will meet you, provide everything you need in India and put you back on your flight home.
Remember to make sure you have a valid passport!
You will also need a visa to enter India - See information below.  

You will need to take out travel insurance for your trip to India
Check airfares from your city to Jodhpur, India

Flights to and from Jodhpur are NOT included in the Training Retreat fee. We will arrange for you to be collected from and returned to Jodhpur airport.  
Pick up from Airport, any time of day on October 16th and transport from the haveli to the Airport, any time on October 30th - so please book your flights to correspond with these dates.
What Your Training Retreat Fee Includes

Transport from Jodhpur airport to the Training Retreat and back to the airport on departure (to meet your flight).
14 nights accommodation in your own comfortable, air-conditioned, private room with private bathroom.

All meals (breakfast, lunch and dinner) from lunch or dinner (depending on what time you arrive) on 16.10.19 to breakfast or lunch (depending on what time you need to leave) on 30.10.19. You will be able to purchase additional snacks yourself if you want to but we seriously doubt you will need to.
Fresh, clean bottled drinking water will be provided in abundance, every day.


All training and materials required to participate in all training courses and workshops.
A variety if sightseeing outings including transport and entrance fees.

Training Retreat Fee
| | | | |
| --- | --- | --- | --- |
|   Fees are quoted in Great British Pounds | Total Fee paid in full Prior to October 1st 2019 | BEST OPTION Early Bird Fee paid in full prior to July 1st, 2019 Save £166 GBP | Payment Plan – start any time with a £166 GBP deposit and pay the full amount by October 10th, 2019 |
| Private Semi-Deluxe room Private ensuite bathroom All meals, water, excursions. Training courses (Certificate of Postgraduate) | £2,118 GBP | £1,952 GBP | £2,118 GBP divided into payments over remaining months to October 10th 2019 |
| Private Deluxe room Private ensuite bathroom All meals, water, excursions. Training courses (Certificate of Postgraduate) | £2,217 GBP | £2,051 GBP | £2,217 GBP divided into payments over remaining months to October 10th 2019 |
| Student Shared Deluxe room Private ensuite bathroom All meals, water, excursions. Training courses (Certificate of Postgraduate) | £1,604 GBP | £1,438 GBP | £1,604 GBP divided into payments over remaining months to October 10th 2019 |
Extra costs
Once you have paid your Training Retreat fee you will also need to arrange and pay for the following:
Your flights to Jodhpur
Your Visa
Travel insurance
Spending Money
Your visa

People visiting from most countries require a valid visa for entry into India - Choose a Tourist Visa.
There are a few ways to apply for an India visa and the easiest is through the new e-visa process at e-Tourist Visa
You can apply online a minimum of four days before your arrival, up to 120 days. For example, if you're applying on the 1st of September, you can arrive between the 5th of September and the 2nd of January.
The visa must be paid for at least four days before you travel and will be valid for 60 days from the date of arrival in India. You'll need to have a recent front-facing photograph with a white background and a scanned copy of your passport photo page that can be uploaded in order to proceed with your application.  
One last thing, your passport will need to be valid for at least six months after your arrival date into India and have at least two blank pages for stamping.
Spending money
We recommend you talk to your bank about the best way to access your money in India - You can't just take your ATM card and use it overseas without arranging this with your bank first. (All of your accommodation, meals, organized sightseeing and transport within India is included in your retreat fee, as outlined above).

The local currency in India is the Rupee (INR or Rs)
The Program
Wednesday, October 16th- Arrive/orientation/introductions
Relax & settle in and adjust to life in a beautiful Indian Haveli.

You will be collected from Jodhpur Airport and brought to the Haveli where you will be able to settle into your private room. Take your time to re-set your body clock and maybe sip a chai on the terrace.

There will be a chair yoga class at 7 am each morning, to welcome the new day followed by a meditation, before we meet for breakfast around 8 am.
There will be a class every day from around 9 am until lunchtime at 12.30pm.
The afternoons will be devoted to relaxation, reflection, sightseeing excursions and extrapolation!
Some afternoon excursions will include a visit to the colourful local markets. Mandore Garden, Jaswant Thada, Toorji's Step Well, Umaid Bhawan Palace Museum, the Jain Mahavira temple and the Mehrangarh Fort - These will be included in your course fee and optional to attend.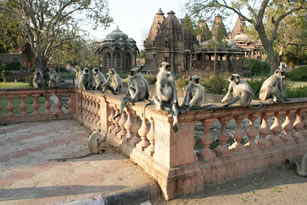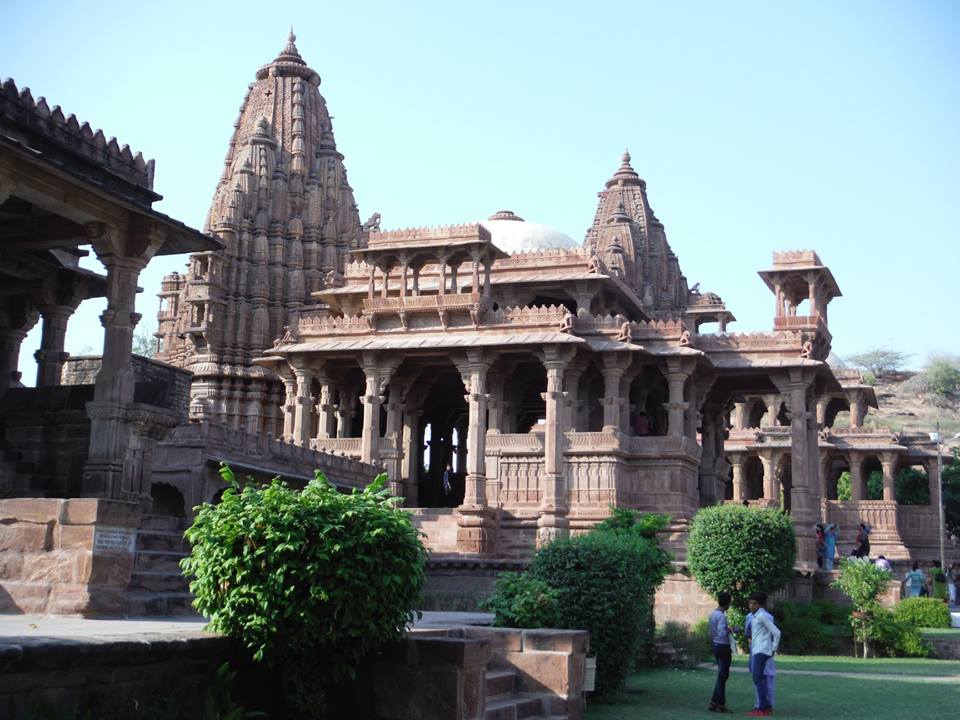 Mandore Garden with its ancient temples. The monkeys here are very timid and sweet. They are not the type that steals your sunglasses or tries to climb on you.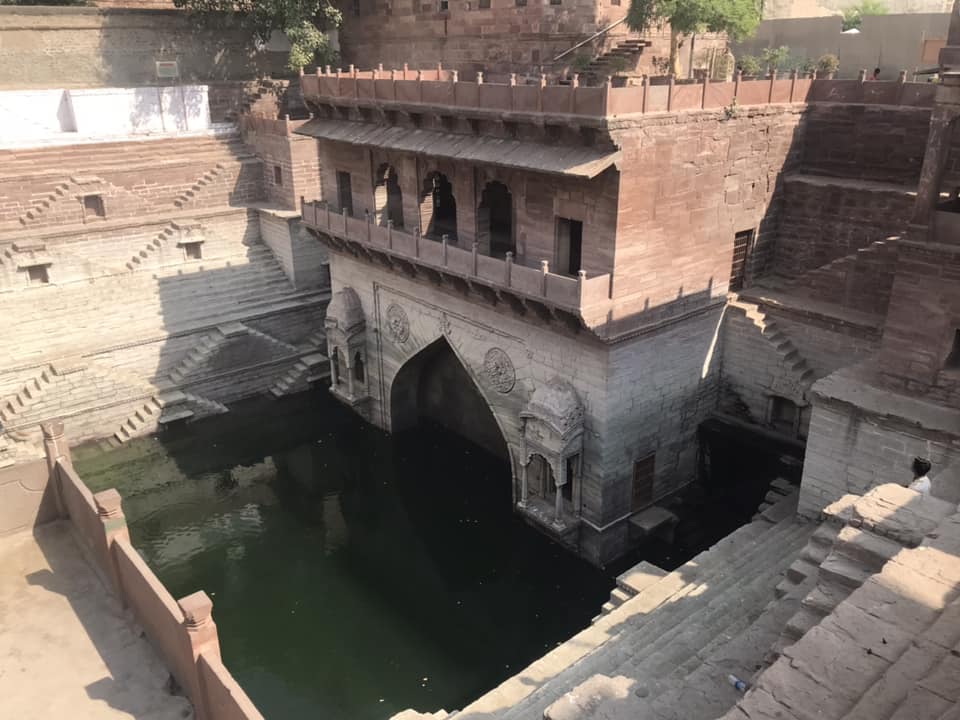 Above: Toorji's Step Well
Diwali in 2019 will start on Sunday, the 27th of October and will continue for 5 days until Thursday, the 31st of October. Also, know as the Festival of Lights, Diwali Puja symbolizes the victory of good over evil. The lamps are lit as a sign of celebration and hope. Diwali is one of the most popular holidays in Hindu countries. This is a very exciting time to be in India!

Tuesday, October 29th
This will be our last full day together and your chance to do any last minute treasure hunting at the market. We will be having a very special banquet this evening to celebrate Diwali, say farewell to new friends, the Haveli and Jodhpur. We encourage you to dress up and get into the festive spirit.`
(Above). Some of our 2018 group at our farewell dinner.
Wednesday, October 30th
We will take you to Jodhpur Airport to meet your flight.
What to expect in Jodhpur
Weather in Jodhpur in late October is typically very warm during the day (around 28 -31).
A little more info
Once you have booked, you will be emailed an information package.
This will provide guidance in regard to what clothes to pack for the weather, and a checklist to make planning your trip simple, including booking your air travel, getting your visa and arranging travel insurance.
We will assist you in preparing for your Indian adventure and make sure all of your needs are taken care of in India.
*Please note: India is not very disability friendly and there will be stairs (a lot of them in some places) and no wheelchair access.
** You will need to be in good health and reasonable fitness to attend this training event.
*** This is an alcohol-free event.